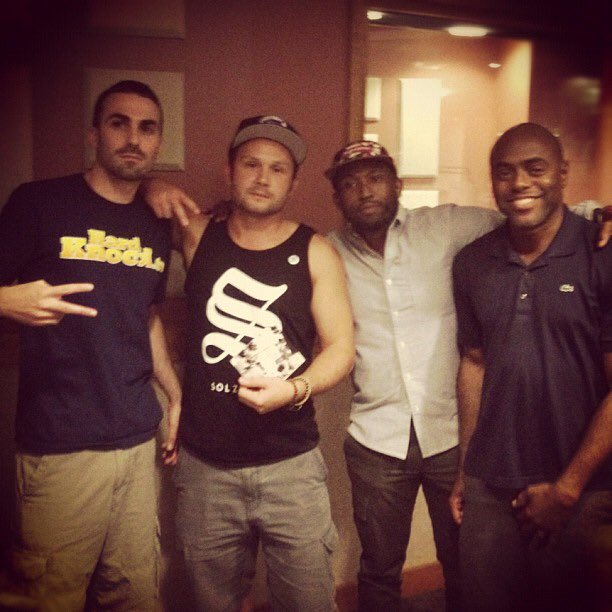 (L-R: Hyphen, Justo & Thig of The Physics, and J. Moore in 2012)
Continuing our string of Sound Session guest hosts, this week we welcomed some of J. Moore's favorite artists (and people!) in the town, The Physics and Malice & Mario Sweet.  We chatted about their work and personal relationships with Jon, and played a few of his favorite records from the Physics family.  Any loyal SNSS listener knows how much we love their crew, so it was impossible to pick just one track to play.  Enjoy those classics, plus new records from Logic, Jidenna, Kendrick, Rozay, GoldLink, Joey Badass x J. Cole, Stormzy, Evidence, Asher Roth x The Cool Kids, J.I.D, and more.
I also highly recommend you check out this tribute to Jon that our friends at The Biggest Podcast put together.  You can also listen on any podcast app (iOS users, click here).
Rest In Peace Jon.
Show #590 (4/9/17)
**Co-hosted by DJ Nphared, Malice & Mario Sweet, & The Physics**
1. Logic – "Everybody"
2. Jidenna – "2 Points"
3. Kendrick Lamar – "HUMBLE."
4. Rick Ross ft. Ty Dolla Sign – "I Think She Like Me"
5. GoldLink ft. Shy Glizzy & Brent Faiyaz – "Crew"
6. Joey Badass ft. J. Cole – "Legendary"
7. The Physics – "I Just Wanna Beat" (Local Music) (Throwback of the Week)
8. Stormzy – "Velvet"
9. Audio Push – "Smokeout '99"
10. Da Villins x DJ Skizz ft. Sean Price – "Indivisible (P&P)"
11. The Physics – "Chalk Up Tomorrow" (Local Music) (Throwback of the Week)
12. The Physics – "My Place" (Local Music) (Throwback of the Week)
13. J.I.D – "Somebody"
14. Loyle Carner ft. Tom Misch – "Damselfly"
15. Evidence – "Throw It All Away"
16. Asher Roth ft. The Cool Kids – "Wu Financial"
17. Malice & Mario Sweet – "Speed Of Light" (Local Music) (Throwback of the Week)
18. Anna Wise – "Some Mistakes"
19. Matt Martians – "Spend The Night / If You Were My GF"
20. Drake ft. Jorja Smith & Black Coffee – "Get It Together"
Download – https://drive.google.com/open?id=0B72U-rgJjvmWam5US1NEOTFpM28
If you'd like to be added to our weekly email list to receive the playlist and stream/download links after every show, just shoot me an email, DJHyphen@gmail.com.
Tags:
dj hyphen
,
dj nphared
,
hip-hop
,
j. moore
,
joe hawkins
,
jonathan moore
,
justo
,
Kube
,
malice
,
mario sweet
,
miguel rockwell
,
Radio
,
Seattle
,
Sound Session
,
sunday night
,
tacoma
,
the biggest podcast
,
the physics
,
thig natural